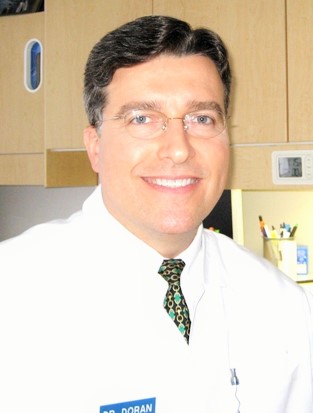 Douglas K. Doran, DMD
Dr. Douglas Doran attended Northwestern University Dental School, and the University of Kentucky College of Dentistry, graduating in 2001. Before attending dental school, he earned a major in biology and a minor in art from Loma Linda University. He also completed a Master of Architecture degree from the University of Washington in Seattle and worked in the Seattle area as an architect for about 9 years thereafter. Dr. Doran is now whole-heartedly invested in dentistry and continues his education in the dental field constantly, frequently, and consistently – several times each year. He completed a general practice residency at VA Palo Alto, CA (and Menlo Park and Livermore, CA rehabilitation center/hospitals) and Stanford University Medical Center. Furthermore, Dr. Doran spent two additional years as a Research Fellow and staff dentist at the same institutions. During his time there, he gained specialized training and extensive experience in oral surgery, including impacted wisdom teeth, more complex preprosthetic surgeries, biopsies, sedation dentistry, tumor board, and craniofacial anomaly review.
Dr. Doran has always been an active (and even awarded) writer and editor – including of newsletters and many other publications and websites at both dental schools he attended, as well as for an internet company. He also served as the Editor-in-Chief of the American Student Dental Association. In addition, Dr. Doran has received several research fellowship awards at the University of Kentucky, National Institutes of Health, and Veterans Administration.
Dr. Doran is committed to providing his patients with the best possible dental care in a comfortable setting, ensuring that it is easy and drama free for his patients. He strives to offer the most sophisticated and advanced dental treatment options available, yet always keeps in mind that some patients may prefer simpler alternatives as well. Dr. Doran has made his living a lot of different ways over the years, and he is happy being a dentist!
Dr. Doran has a small family, which includes his lovely wife and wonderful daughter, and they live nearby. He has lived and traveled all over America and almost every corner of the world, and he is very happy to make New England his home. When he isn't working to improve your smile, Dr. Doran and his family enjoy kayaking, snow skiing, and snowshoeing, as well as travel and cultural appreciation. They love to explore historical sites, zoos, aquariums, music, theater, dance, museums, fairs and festivals.